CRUDE ON RIDE AND EQUITY REBOUND AS INVESTORS PINNED HOPE ON PEACE TALK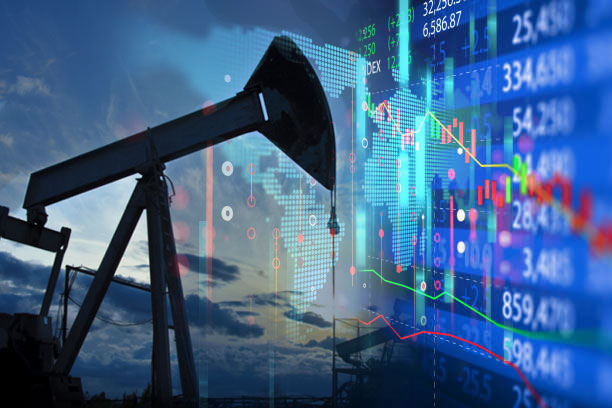 WTI crude futures jumped more than 2% to above $105 per barrel on Friday, extending an 8% rally in the previous session as ongoing peace talks between Russia and Ukraine did not yield significant progress, raising fears of further sanctions and prolonged disruption to oil supply. A Kremlin spokesperson denying reports of major progress in peace talks over Ukraine, Putin's speech against "traitors and scum" at home who helped the West and Biden calling Putin a "war criminal" all added to market jitters about an extended conflict. An IEA warning of a potential supply shortfall due to sanctions against Russian oil also pushed energy prices higher. Meanwhile, the US oil benchmark is still on track to drop for a second straight week, having fallen significantly from a recent high of $130.5 per barrel reached on Mar. 7 as traders continued to assess geopolitical and economic uncertainties.
US stock futures slipped in early on Friday after the major averages posted gains for three straight days, as investors remained upbeat about the Federal Reserve's measured move to tighten monetary policy. Dow futures slid 0.4%, S&P 500 futures fell 0.5% and Nasdaq 100 futures dropped 0.6%. The moves came as Wall Street enjoyed a relief rally this week after the Fed announced a widely expected 25 basis point rate hike and signaled six more hikes this year. The Dow and S&P 500 rose 4.7% and 4.9% for the week so far, on pace for their biggest weekly gain since November 2020. The tech-heavy Nasdaq is up 6% this week, headed for its best week since February 2021.
European stock futures were flat to higher before the opening bell on Friday, with all major stock indices ending the week with a rebound. Frankfurt's DAX is set for a weekly rise of 7.0%, the CAC 40 in Paris with a 6.5% climb, the pan-European Stoxx 600 up 5.5%, and the UK's FTSE 4.0% higher.
The Shanghai Composite fell 0.1% to around 3,210 while the Shenzhen Component lost 0.9% to 12,180 on Friday, as mainland shares retreated after a historic two-day rally while markets assessed the feasibility of Beijing's pledge to stabilize financial markets. Growth-oriented names in the new energy, technology and consumer sectors led the market retreat, with losses from Contemporary Amper (-3%), Tianqi Lithium (-2%), East Money (-1.9%), Hengbao (-4%), Kweichow Moutai (-1.2%) and BYD Company (-0.4%).
The BSE Sensex ended 1047.28 points or 1.84 % higher to close at a 4-week high of 57,863.93 on Thursday, as investors digested the latest monetary policy updates from the US Fed. Gains were led by capital goods, banks and autos with 28 out of 30 stocks ending in the green. Among the individual stocks, Jewellery-cum-watch maker,Titan added 4.5 %, and surged 30% in 6-months amid expectations of strong earnings growth ahead of the upcoming wedding season. Besides this, other top gainers included Housing Development Finance Corporation (+5.5%), Kotak Bank (+3.29%); Reliance (+3.18%), Asian Paints (+3.07%) and Tata Steel(+3.02%). On the week, the BSE booked a 4.3% gain.The market is closed for the "Holi Festival" on Friday.
The Nikkei 225 Index rose 0.65% to close at 26,827 while the broader Topix Index edged up 0.54% to 1,909 on Friday, with both benchmark indexes posting their best week in nearly two years marked by the Federal Reserve's measured move to tighten policy and the Bank of Japan's decision to keep ultra-easy policies steady. The BOJ maintained its massive stimulus on Friday and warned of heightening risks to a fragile economic recovery from the Ukraine crisis, reinforcing views that it will remain dovish despite a global shift towards tighter monetary policy. Nearly all sectors ended higher on Friday, with strong gains from index heavyweights including Nippon Yusen (2.2%), SoftBank Group (3.7%), Recruit Holdings (1.6%), Sony Group (1.3%), Hitachi (3.3%) and Takeda Pharmaceutical (2.1%), among others.